Hollywood Bowl | Los Angeles, California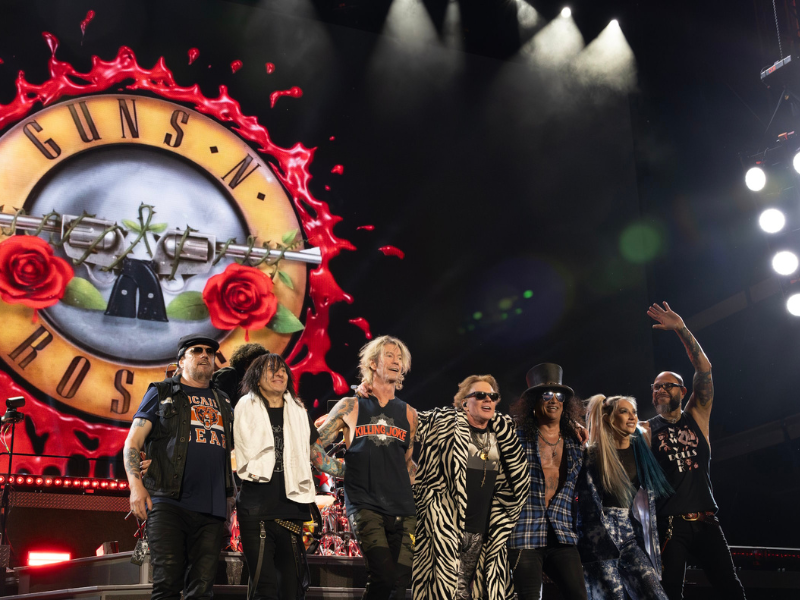 JUST IN: Guns N' Roses are closing off the North American leg of their 2023 tour in Los Angeles, California! The rock band is gearing up for a two-night extravaganza at the Hollywood Bowl. This event is going to be the first time they're ever playing in the renowned venue - and it's a concert that rock fans cannot miss out on!
Catch the legendary Guns N' Roses as they rock on stage with all their best hits. They're performing live on the 1st and 2nd of November, 2023. The Black Keys will be joining the show as the supporting act, making it an even crazier experience. If you're one of Guns N' Roses' longtime fans, you can't afford to miss this show.
You can secure your tickets to the second and final night of Guns N' Roses at the Hollywood Bowl on the 2nd of November right here. Click 'GET TICKETS' to make your purchase. Grab yours right now because tickets are almost sold out!
With more than 100 million records sold worldwide - including 45 million in the United States - Guns N' Roses is indeed one of the best-selling acts in history. The iconic band has been around since 1985... and they're proving that they're not stopping anytime soon. Having just been on the We're F'N' Back! Tour which spanned 2021 until 2022, the band immediately got started on the Middle East, Europe + North America Tour 2023. The tour has been ongoing since June 2023. Now, they just announced a final two-night stand in none other than LOS ANGELES, CALIFORNIA.
Guns N' Roses will perform for two nights at the famed Hollywood Bowl, marking the first time the band will ever set foot on the venue's stage. Joining them for the show is the Grammy Award-winning rock duo The Black Keys - known for their bluesy and garage rock sound.The band burst onto the music scene with their raw and gritty style, producing hits like "Lonely Boy" and "Tighten Up." It's definitely going to be one of the best nights you can ever have as a rock fan when these two bands team up!
Here's the official setlist for Guns N' Roses Tour 2023:
It's So Easy
Bad Obsession
Chinese Democracy
Slither (Velvet Revolver cover)
Pretty Tied Up
Mr. Brownstone
Welcome to the Jungle (Link Wray's "Rumble" intro)
Hard Skool
Absurd
Double Talkin' Jive
Reckless Life
You Could Be Mine
Estranged
Live and Let Die (Wings cover)
Down on the Farm (UK Subs cover)
Rocket Queen
T.V. Eye (The Stooges cover)
Better
Anything Goes
Civil War (With Jimi Hendrix's Voodoo Child outro)
Slash Guitar Solo
Sweet Child o' Mine
November Rain
Wichita Lineman (Jimmy Webb cover)
Knockin' on Heaven's Door (Bob Dylan cover)
Patience
Coma
Nightrain
Paradise City
*Note that the setlist is based on previous shows the band has played. This may or may not change without prior notice.
Tickets to Guns N' Roses show at the Hollywood Bowl on the 2nd of November are on sale right now. If you want to get your hands on tickets, you need to get them right now because they're almost sold out! Hurry and click 'GET TICKETS' before it's too late!